WVO Conversion for the Alternative Fuel User
Here at Pa Biodiesel Supply, we operate our family vehicles on alternative fuels. Our cars are equipped with WVO conversion kits for driving on waste vegetable oil. While waste vegetable oil goes by many names such as WVO, vegetable oil diesel, cooking oil diesel, diesel vegetable oil, one thing is for sure — you can drive for almost nothing while being greener, with a fuel that doesn't pollute our air like fossil fuels. Imagine being greener and saving $$$.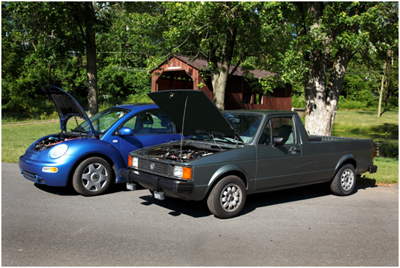 Our personal vehicles are a 1982 VW Pickup and a 2001 VW Beetle.  Future plans include the addition of a ¾ ton diesel truck which also will be converted with a  WVO conversion kit.  While we purchased commercial conversion kits, our vehicles were converted by our good friend Brad Baublitz of York, PA. 
Driving a converted vehicle is a simple operation either using a manual control or an automatic computer control to switch between WVO and diesel.  The 1982 VW truck is equipped with an automatic control.   When the coolant temperature reaches 155 degrees, the processor automatically switches the solenoid valve to WVO.  The 2001 VW Beetle also has an automatic control which switches the solenoid valve when the coolant temperature reaches 125 degrees.